BUFFETT'S BLUEPRINT WORKSHOP
Decoding the stock market:
Ready to Earn More Without Working More?
And to build a long-term financial foundation?
Without you constantly have to trade in and out of the market?
Learn how to get long-term financial stability through buying stocks, and letting your investment grow while you can focus on living your life. 
The next workshop starts January 11th 2024. Enrol now to join the workshop and stop missing out on stockmarket opportunities.
Do any of these sound like you?
You're working hard on your career… but though you have money, you don't have enough money. You thought that when you reached this point in your life, you would have been able to buy nicer things. It's frustrating to see how others can afford things you can't.
You made it to this level and you like your job… but you though life would be different by now. You often feel that you need to compromise when making a big purchase or booking a family experience. You always have to lower your expectations to match what you can afford and have access to. You want a Level A experience, yet your budget aligns with Level B or B+.
You do an amazing job at juggling career, family and time with friends… but you never seem to have time. Time for yourself. Time when you don't need to be something for someone else: family, friends, colleagues. Maybe on Tuesday before midnight, you can carve out a slice of 'me-time'.  Another source of income could mean that you can work less or take some time off work. To have freedom to choose the content of your life.
You have a nice job and steady income… but you don't want to remain in that office chair until you're 70 years old. That's the offical retirement age, but you have a different plan. You want to experience life outside the office and retire when you still have the vitality to do so. You are looking for an investing method that can get you there.
You know you're a smart person… but the stock market seems like a lottery, and your experience so far has felt like trial and error. You ask: Why does it have to feel like gambling? Isn't there another way? You want a dependable and stable strategy and you want to be confident in your ability to manage your stocks. The Buffett's investing method is a proven solution.  
You want to create long-term wealth for you and your family… but you're not sure where to start or how to invest wisely. You recognize the need for a cookie-cutter method and a set-it-and-forget-it strategy, allowing you to focus on your family while your portfolio grows on its own.
You want to take charge of your financial future… but you're intimidated by the gambling-dominated world of trading and finance, and you want to learn and grow in a supportive, empowering environment.
I've been where you are...
So, I know what you're likely going through right now. You might have a fear of making costly mistakes when it comes to managing your money on your own, and quite frankly, it can be overwhelming with all the information and investment options out there for you. There are a lot of different programs and investment products available, and it can be difficult to choose what's best for you. With the limited time you have for your career, family, hobbies, and seeing friends, it's almost impossible to have enough time to read, watch, and digest everything there is to know about investing.
This workshop uses the fundamental principles Warren Buffett uses to invest in stocks and other assets. I've taken all his teachings and created a workshop with straightforward language and tools that does the math for you. Plus, from my career at LEGO I know how important it is to integrate play into learning – also for adults. So I've drizzled games and interactive activities throughout the workshop, making the process more engaging and enjoyable. The combination of practical tools, clear language, and playful elements ensures that you grasp the concepts better.
I now feel much more confident and I even enjoy reading annual
reports
now! I never thought I would say this.
I am so grateful so everything you have taught me. It really has changed my life!
Participant Buffett's Blueprint Workshop
What Would Your Life Be Like…?
You're Not Alone. And I'm Here to Help!
What would it feel like to be a role model to your family and to the people around you? Being the one who took responsibility and made a decision to learn how to create long-term wealth for you and your loved ones.
Think about the time you'll be able to spend with yourself and with your family because you have additional income that allows you to push the pause button or do what you want, when you want it. You have portfolio where you can can set-it-and-forget-it and you're able to navigate the information and understand the investing jargon.
Being the person in the room that can talk confidently about investing opportunities and portfolio management and your friends will come and ask you for information.
You can see when opportunities for great investments arise – you're not missing out on opportunities anymore. And you can spot when something is a poor investment choice so when you listen to investing podcasts or watch advice on social media you'll be able to determine what's quality and what's junk wrapped in pretty paper.
The results of taking the workshop are more than resolving the problem of feeling overwhelmed and lacking confidence in investing – it will also positively impact your financial future and those around you.
3 myths that prevents you in achieving financial stability:
Myth 1
 Investing is only for the wealthy, and it's too risky for the average person.
Reality
Investing can be accessible to anyone, regardless of income level, and with the right knowledge and strategies, it's the clever and easily accessible way to grow wealth over time.
Myth 2
It's too late for me to start investing, so why bother taking a workshop?
Reality
It's never too late to start investing, and even small investments made over time can add up to significant gains. The key is to develop a plan that fits your goals and time horizon.
Myth 3
The stockmarket is too complicated and to be succesful you need to be a genius.
Reality
Some trading strategies can be overly complex because the industry wants you to invest with them and pay fees. Warren Buffett's principles are straightforward and simple to understand.
Video Introduction of The Workshop
You'll get this in the Buffett's Blueprint Workshop:
A strategy that has a potentital to achieve a 15% yield on your investments. This is done with a strategy for long-term financial stability as well as a method where you generate a monthly income from trading.

Be able to make informed decisions and avoid costly investing mistakes.
Access to Signe Lonholdt as your mentor to support and guide you in implementing method.
Acquire a toolkit

designed to assist you in determining the ideal stock price

, and help you identify cheap quality stocks.
Get a clear understanding of portfolio composition and risk tolerance.
Learn when it is time to buy a stock and know when it's time to sell for a profit.
About Signe Lonholdt
Investing Trainer and Mentor
I'm Signe, and I support millennials build long-term wealth and financial stability with Warren Buffett's investing strategy.
As an educated journalist, my strength is communication. I've studied all the information that Warren Buffett has shared about his investing strategy since the 1960s, and from that information, I created a workshop that teaches his strategy without using jargon or complexity. As a woman in this industry, it's also important for me to create a safe space for beginners to learn and grow. Where workshop participants feel comfortable asking questions and sharing experiences without feeling judged.
As a former executive at LEGO Group and a mother of two children, I understand the busy life we live today. Investing gave me an opportunity to retire from my corporate career and focus on my passion: teaching investing and being a mentor for new investors.
My Approach
My Investing approach comes from Warren Buffett's 4 principles. What initially resonated with me was that his investing method Is a real strategy versus many of the other trading methods I tried out where I was left with guessing that I chose the right stock and hoping it would go up. With Warren Buffett's strategy I have a step-by-step guide and I by applying the strategy I not only experienced to have monetary success but I also gained confidence in my abilities to select stocks.
Honest Results
This strategy is not a "get-rich-quick scheme" and this workshop is not for you if you hope to become a millionaire by next year. I'm not the mentor you're looking for.
In this workshop you can learn how to compound long-term wealth and achieve financial stability. It's about not losing your hard-earned money on risky trades but instead making intelligent investment decisions and being able to spot investment opportunities when they arise — something I can teach you.
Workshop Modules and Curriculum
Transform your financial future and embark on a remarkable investing journey with our comprehensive workshop modules, where you'll gain invaluable knowledge, practical skills, and proven strategies to secure long-term wealth and achieve the financial success you've always desired.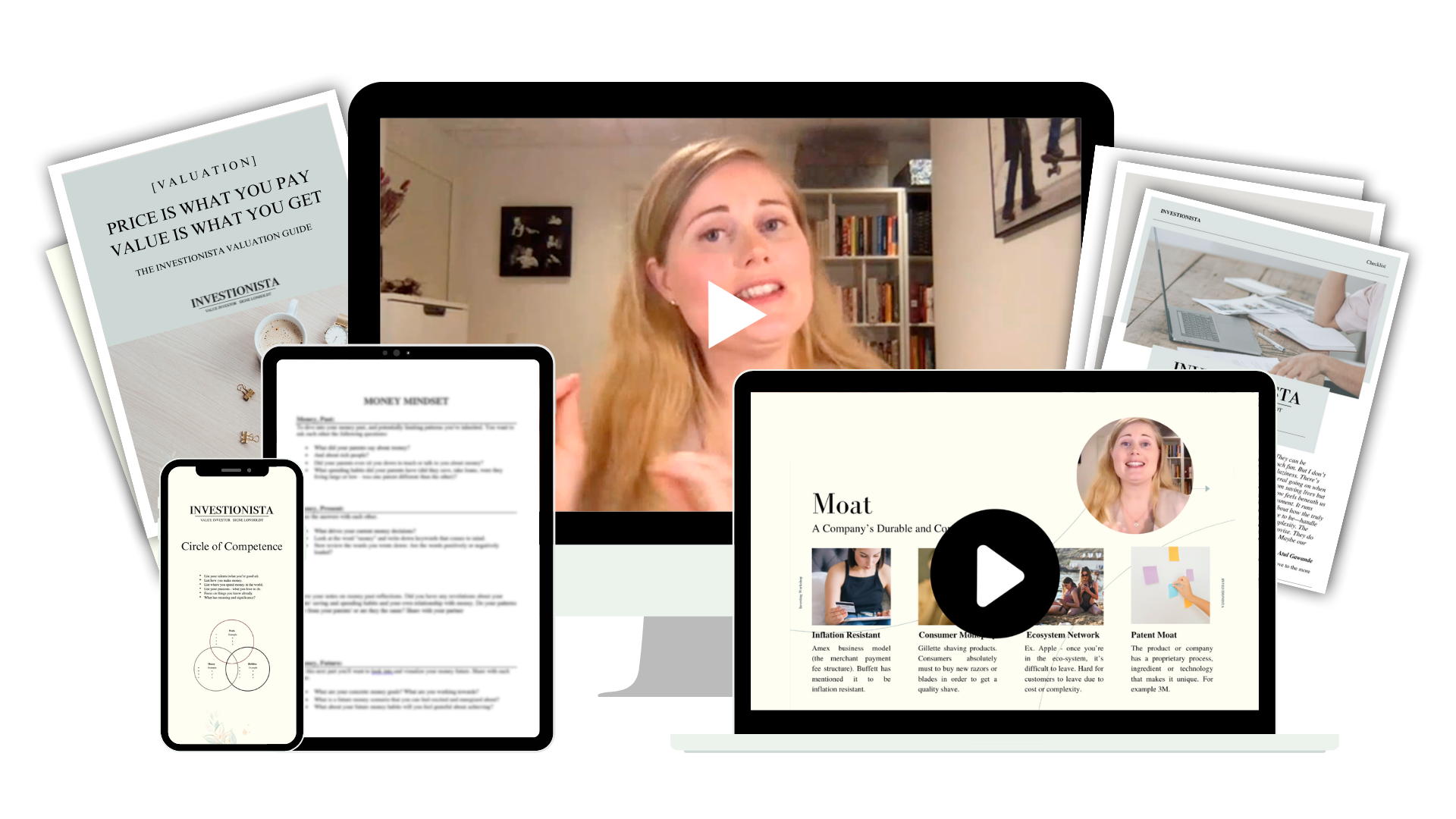 Money Mindset, Unlocking Your Money Patterns
Your new, remarkable investing strategy must be built on a strong foundation.
Get crystal clear on why you are investing. Your goals, dreams and desires so you ensure unwavering commitment and avoid derailing your progress in investing.
Discover the 27 questions that will unlock your money mindset and eliminate limiting beliefs about money so you can start earning and learning
Change any old, limiting patterns and get going on your new investing journey to accomplish your financial aspirations.
Get the net-worth calculator and learn how to put down secure roots so you can soar with your wings.
Use the cheat sheet to get you started with Warren Buffett's first investing principle.
After this session you will be able to define your investing objectives, explore your net worth, and take the first step into Warren Buffett's proven investment strategy.
Investing Fundamentals: Tools to Find Quality Stocks
The Key to Successfull Long-Term Investing is Assymetrical Risk and Reward. 
Gain insights to different risk profiles and develop your own personal risk tolerance profile.
Learn the how to compose a low risk - high reward portfolio.
Get started on your collection of wonderful stocks with a curated list of truly remarkable investment opportunities.
Discover the successful super investors and copy their low risk - high reward strategy
Learn how to evaluate the trustworthiness and competence of CEOs and management teams associated with stocks.
You'll have the skills to build a well-balanced and high-performing investment portfolio catering to your newly identified personal risk profile.
Find the Winner With a Checklist
Uncover successful investing: identifying the true winners in the market.
Unlock the techniques for identifying winning stocks.
Get my formula to identify great investment opportunities.
Follow along while I demonstrate a winning case for a stock.
Swipe my exclusive wish list template to keep track of wonderful stocks.
After this module you will be able to make informed investing decisions on your own and reach a new level of certainty and confidence in your abilities to see investment opportunities as they arise.
Unveiling Hidden Gems: Discovering Cheap Stocks
Discover the secrets of the pros and invest like them – you have what it takes!
Uncover the method of investing without the need for complex calculations.
Get my automated tool to the ONE thing you need to buy a cheap stock: the valuation tool.
Discover the framework to why Warren Buffett has so high annual gains: investing with a margin of safety.
You will get an incredible tool that will automatically and simply give you the price at which you should wonderful stock for.
Generate An Extra Income With Options
The short term solution to generating cash flow and compunding through trading.
Get a monthly payment to grow your investment account or enjoy some extra funds.
Learn how professional money managers generate cash with very low risk.
Leverage the tools from previous modules to execute straightforward trades with confidence.
You will learn to Generate a Consistent Cashflow through Short-Term Options Trading.
Generate An Extra Income With Options II
Options trading is one of the most profitable methods out there, but many use the wrong strategy — you will learn the Buffett way.
Unlock the secrets of how to grow your trading account steadily month for month.
Develop the skills to execute precise entries and exits, maximizing your profit potential on every trade.
Receive support and guidance to carry out these simple trades.
Explore an alternative trading style to identify the one that aligns best with your personality and lifestyle.
No matter what your skill level, this module will unveil the way of generating consistent cashflow through short-term trading.
When is the right time to sell?
Though you want to "set it and forget it" there's a framework behind strategic selling to optimize profits.
You've learnt how to buy low - now it's time to uncover how to sell high.
Swipe my selling strategy - you will get my insights on when to sell with a profit.
Get the scoop of how to tell if it's the right time to harvest your investments.
In this session you'll learn when to sell and how to balance the temptation so sell when the market is really low. During the workshop you will acquire the skills to take advantage of any market situation.
"I have been feeling excited about what is happening in the stock market and I am definitely ready to place some large trades when the timing is "right". Something I could have never imagined this time last year.
Thank you so much again for all of the knowledge you have shared with me."
What Will You Get With Buffett's Blueprint Workshop?
By investing in yourself through Buffett's Blueprint workshop you will find a way to get long-term financial stability as well as a proven trading method to generate a monthly income.
Get live training sessions with an expert.
7 weeks of live training and support.
Simple to use tools that automate calculations.
Learning through Play elements to make it engaging and fun.
Additional recorded training videos.
Work files and templates.
Ongoing support from the trainer and peers.
Frequently Asked Questions
Here are the answers to the questions other participants have asked,
before they invested in the Buffett's Blueprint workshop
Do I need a lot of money to get started?
This is one of the questions I most frequently get because a common belief is that investing requires a lot of money to get started.
It really doesn't.
In the workshop you will learn that price does not qual value. A personal example is that I've bought a stock in a high quality company for $9. This is how much – or even less – you need to buy a stock.
Because of the commissions and fees that the stock brokers take, I suggest to have €1000/$1000 to spend on your first stock purchase. But the most important thing is really to get started and during the workshop you'll get the strategies to save this amount of money if you don't already have savings.
How is the "Buffett's Blueprint Workshop" different from other investing courses and workshops?
Warren Buffett is the most successful investor of our time. For the past 60+ years he has had an average return of his investments of 20,4%. Every year his money has grown over 20%! That is why I believe he is worth following.
What is unique about Warren Buffett's strategy is that it is not complex like many other trading methods. Instead he invests using 4 simple and straightforward principles and the greatest strenthg of his strategy is that he uses comon sense in making decisions. It's also unlike many modern trading methods, where you can only guess and hope that your stocks go up – Buffett's 4 steps is an actual strategy where you will reach your goal if you follow the steps.
Which format is this workshop?
The format is a live online course once a week with max 10 people attending. We will meet via online video conference where I will present the topic of the week and you can ask questions directly to me.
Everything will be recorded so if you can't make it on the day, there will be recordings. You can also send me questions that I will answer during the live sessions or if we run out of time: in additional recorded sessions that will be shared as recordings (recorded Q&A's to make sure all your questions gets answered).
What days are the workshop being held?
Workshop in English every Thursday from January 11th to February 22nd 2024 at 19:00 (Central Europe/ Copenhagen) See time in your timezone.
Every class takes 1-1 1/2 hour.
Mark these dates:
January 11th
January 18th
January 25th
February 1st
February 8th
February 15th
February 22nd
How much knowledge about investing do I need to attend?
The level is for beginners and you don't need any financial knowledge because that's what you will get.
I have an ability to make things simple and though the investing world is full of complex jargon, I will make sure to make it easy to understand and you will get throughly introduced to any jargon that you might come across in ex. your brokerage account where you trade stocks from. 
You will also get access to tools that will automatically calculate numbers so there's no need for any math skills as the tools will do it for you.
How much time is required during and after the course?
There's the one-hour workshop and then there's some homework/funwork that will take about an hour to complete. Or more time if you want to.
After the workshop, it will depend on your own commitment. In the very beginning after your graduation, I recommend to use one evening per week, where you can study what you've learnt. What is awesome about this strategy is that you don't check the stock market all the time. The time after the course is all about practicing. Not moving money back and forth in and out of the stock market or other stressful activities. With this investing strategy we stay clear of stress.
How does the workshop compare to Female Invest?
Female Invest primarily does pre-recorded sessions and webinars. The biggest benefit of a live workshop like Buffett's Blueprint versus pre-recorded sessions are the success rates. One study published in the Journal of Learning Analytics found that learners who participated in live, synchronous sessions had higher completion rates and better learning outcomes than those who worked through pre-recorded content. A possible explanation for these findings is that live sessions provide learners with more opportunities for interaction, feedback, and support from their instructor and peers. This can help to increase engagement and motivation, and to build a sense of community and accountability among learners.
I've had students who appreciated the interesting recorded classes from Female Invest, while my course was much more hands on and me being there for them and their questions – they weren't alone so they learned more than with their membership.
Previous students also say that many other platforms and courses give general information about investing but this workshop provides a practical step by step approach to investing.
Is there a money back guarantee?
Absolutely. I am confident that you will love this course and it will change your life… but if you're feeling uncertain, you can rest assured that I have a 14 day money-back guarantee.
If, after two weeks in the workshop, you decide that it's not for you, just let me know and I'll refund 100% of your tuition.
If you Still haven't decided if the Buffett's Blueprint Workshop is for you…
These are the the key reasons you should invest in this workshop:
1.  To gain Long-Term Financial Stability: Learn a proven investing method that enables you to achieve long-term financial stability, setting you on the path to financial freedom.
2.  Generate Monthly Income: Discover strategies to generate a consistent monthly income through both long-term investing and short-term trading, providing you with additional financial resources.

3.  Overcome Fear and Complexity: Overcome the fear of missing out on investment opportunities and navigate the complexities of the stock market with confidence and ease.
4.  Become a Savvy Investor: Develop the skills to identify wonderful companies, determine intrinsic value, and evaluate the margin of safety, enabling you to make informed investment decisions like a seasoned investor.
5.  Learn Options Trading Strategy: Master an options trading strategy, leveraging its potential for short-term cash generation and expanding your investment toolkit.
6.  Experience Learning Through Play: Engage in a more interactive and enjoyable learning experience that incorporates "learning through play," making the workshop fun, immersive, and effective.
"I have taken another course on investing but I will say, it has been quite a disappointment. Of course I still learned things but I did not find the instructor to be great at answering questions. I am sharing this as it reinforced for me how strong of a teacher Signe is and how grateful I am that Signe were my first investing teacher, otherwise, I may have been discouraged from investing all together."
"I am relatively new to investing. I came across Signe on Instagram and found a lot of value in the things that she was sharing. I finally reached out, and it was one of the best investing decisions I have made. I now have more confidence than ever when it comes to finding wonderful companies to invest in, and how to determine their intrinsic value as well as the margin of safety price.
Thank you, Signe!"
Clarity
Peace of mind that you're taking steps towards financial stability and long-term wealth creation.
Training
Uplevel your investing skills and knowledge to stay profitable and purposeful in any market condition.
Results
A focused and supportive learning environment that fosters your growth and results.
When Does Buffett's
Blueprint Start?
The next workshop starts January 11th 2024 at 7 pm Central Europe/ Copenhagen. See your timezone
Once the 7 week workshop concludes, you can review and revisit the material as much as you'd like. The training modules, resources, and recordings of the live sessions are there for future use whenever you need them!
How Much Does
Buffett's Blueprint Workshop Cost?
The Early Bird investment for Buffett's Blueprint Workshop is $1847 USD. You can also enrol via payment plan (3 payments of $657 USD). Early Bird offer ends on November 30th 2023.
Please contact me if you want to pay in another currency or take advantage of the payment plan.